Customer Reviews
Write a Review
Ask a Question
Filter Reviews:
hair
curls
products
baby
conditioner
growth
daughter
cradle cap
Cristina
texture
10/15/2021
Darian E.

United States
Bundle 8
Products feel nice, just didn't seem to be any different than any other shampoo or conditioner
10/11/2021
Dwyna O.

United States
Great product!
I ordered this for my daughter to use on her daughter's hair, she's 9 months now. We have seen growth as well as deeper curls. We ordered bundles #8 what a great buy, no regrets.
10/09/2021
Shandese

United States
Great product
This product works!! Every time We wash my grandsons hair it makes it so soft and easier to comb….we love it
09/29/2021
Deonna J.

United States
Hair R Us
My experience has been great so far. My daughter hair has been completely softer than before . Her texture is still forming but she has a head full of curls . I am so glad I chose this product.
09/28/2021
Rockel F.

United States
Amazing products
My baby had really bad eczema on the back of her head ! A mom friend sent me Cristina's curls IG page and I was immediately Intrigued , like most moms I was worried at first , but after researching and reading reviews I made the decision to try , within a week my baby girls scalp began to clear . Her hair was shinier and softer than ever ! Now I swear by the shampoo and conditioner and am looking forward to trying a few more products ! Definitely recommend to all my moms friends .
08/19/2021
LaQuanda G.

United States
Excellent product
I love using it on my babies hair. It makes my 1 year old curls pop! I have been using it on my 2 month old and her hair is curls are getting fuller! Definitely will be ordering more! I really love the oil. I use it on both of their hair daily and on their body after baths!
08/17/2021
Bianca B.

United States
Great products!
Leaves baby's hair and skin super soft.
07/26/2021
Jennifer W.

United States
Love love love
Firstly, The customer service with this company is nothing short of AMAZING! I love all of their products that I have tried so far because they always give my baby boy the luster that his curls need to complete wash day! I love how even after a few days when his curls need a little refreshing I can use the detangler with some of the hair + body oil to refresh his curls in no time. The conditioner is really one of my favorite products because many companies make 2in1 shampoos + body wash but forget to add conditioners for children's hair so I love that this company provides everything!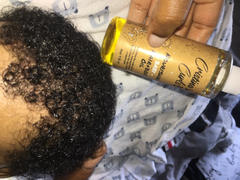 07/27/2021
Cristina's Curls
Thank you so much for taking the time to write such a detailed review. We truly appreciate it and thank you for supporting Cristina's Curls. God bless
07/09/2021
Gracie P.

United States
Love love love!!!
From the moment I used these products on my 5 month old daughter, I immediately felt the difference. The shampoo lathers so well and the conditioner is so moisturizing. Would 100% recommend it. So glad I found this company and am eager to try different products from this line.
06/28/2021
Amirah S.

United States
Works Wonders!
I was using a popular baby brand (two words, has a vaccine out right now) and it was drying my baby girl's hair out something serious. Decided to do some research on good brands for brown babies and came across this one on IG. So glad with my purchase. A little pricey but a little goes a long way and her cradle cap has improved tremendously and is growing like crazy!
06/25/2021
Denise T.

United States
06/16/2021
Jade H.

United States
Love it!
Shampoo&Body Wash/Hair& Body Oil COMBO: My daughter's hair has been so much more moisturized, which is defining her curls! I love the scent on her skin, and hair! Conditioner: The lather is to die for! It really reveals her truth length. Her curls are coily, and shrinkage is real. But with the conditioner, we can comb thru her hair and really see the growth.
06/12/2021
Shade S.

United States
Love It
Great product. Loved how quick it came.
06/11/2021
Chantel F.

United States
Love !
I love these products helps keep my son's hair moisturized and curly. These products smell good and are a game changer.
05/11/2021
Mary H.

United States
All for my baby's hair!
Cristina's products have brought out my baby's texture, keeps her hair smooth not oily...and yes there has been growth! I will be a loyal customer from here on...thank you
05/08/2021
Ray D.

United States
Love but can be improved
So I absolutely LOVE the products!! It keeps my baby hair nice and moisturized plus the oil omg GREAT for her cradle cap!! Like once I started using it the dryness literally disappeared and the smell is great :) my only reservation is that I wish the products were more baby friendly and tear free. Accident got in her eye and she started screaming cause it was burning her. So that's the only thing I would say needs improvement but other than that 10/10 recommend lol