Customer Reviews
Write a Review
Ask a Question
Filter Reviews:
hair
products
curls
baby
conditioner
daughter
growth
skin
cradle cap
shampoo
01/14/2022
Patrice S.

United States
I recommend this product
So far so good!
So far I love the way my three month old hair feels after I shampoo and condition it . I follow up with the hair oil so far so good. My babies curls shine an her hair feels great afterwards. I've only been using it for about 2 months now I'll keep you guys posted on our progress!
01/11/2022
Cherrell H.

United States
I recommend this product
Amazing Bundle
I love the products. I was concerned about how to treat my son's cradle cap and this bundle saved me lol. His hair is growing and the cradle cap is gone.
01/07/2022
Juwairiyyah

United States
I
I love the products very soft and smells very gently
12/11/2021
LAURA P.

United States
I recommend this product
ITS A MUST TO HAVE!
My daughter hair never has been this hydrated and full of body until I started using this product!! I am in LOVEEEEEEEEEEEE!
11/06/2021
Dominique R.

United States
Great products!
Love these products for my sons curls!
11/02/2021
Lashawn L.

United States
Baby Bundle
I LOVE these products for my babygirl! Her skin is always so smooth and soft and her hair is curly and hydrated! Since using Christina Curls I've noticed my babygirl hair is growing tremendously and I'm very happy about that. Definitely will recommend these products to any mom and I'll for sure purchase more soon! Thank you Christina Curls❤️
10/28/2021
Karla R.

United States
Karla Ray
Love it! Planning to order more, my baby hair detangles perfectly
10/25/2021
Tanika H.

United States
Baby Bundle
I use all three products and I definitely see and feel a difference in my son hair. The conditioner makes his hair feel soft after using the Shampoo. The oil gives it moisture but does not stay on long, especially if your child is very active. Now I need to purchase a product that will keep his curl pattern moisturized throughout the day.
10/24/2021
Anya M.

United States
Great Buy
I was looking for an organic hair care product for my daughter so I decided to give this a try. It works good and it gives me piece of mind that what I'm putting in my baby's hair is natural and healthy for her. Thank you
10/11/2021
Dwyna O.

United States
Great product!
I ordered this for my daughter to use on her daughter's hair, she's 9 months now. We have seen growth as well as deeper curls. We ordered bundles #8 what a great buy, no regrets.
10/09/2021
Shandese

United States
Great product
This product works!! Every time We wash my grandsons hair it makes it so soft and easier to comb….we love it
09/29/2021
Deonna J.

United States
Hair R Us
My experience has been great so far. My daughter hair has been completely softer than before . Her texture is still forming but she has a head full of curls . I am so glad I chose this product.
09/28/2021
Rockel F.

United States
Amazing products
My baby had really bad eczema on the back of her head ! A mom friend sent me Cristina's curls IG page and I was immediately Intrigued , like most moms I was worried at first , but after researching and reading reviews I made the decision to try , within a week my baby girls scalp began to clear . Her hair was shinier and softer than ever ! Now I swear by the shampoo and conditioner and am looking forward to trying a few more products ! Definitely recommend to all my moms friends .
08/19/2021
LaQuanda G.

United States
Excellent product
I love using it on my babies hair. It makes my 1 year old curls pop! I have been using it on my 2 month old and her hair is curls are getting fuller! Definitely will be ordering more! I really love the oil. I use it on both of their hair daily and on their body after baths!
08/17/2021
Bianca B.

United States
Great products!
Leaves baby's hair and skin super soft.
07/26/2021
Jennifer W.

United States
Love love love
Firstly, The customer service with this company is nothing short of AMAZING! I love all of their products that I have tried so far because they always give my baby boy the luster that his curls need to complete wash day! I love how even after a few days when his curls need a little refreshing I can use the detangler with some of the hair + body oil to refresh his curls in no time. The conditioner is really one of my favorite products because many companies make 2in1 shampoos + body wash but forget to add conditioners for children's hair so I love that this company provides everything!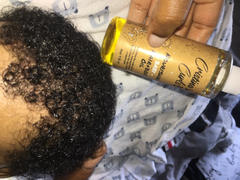 07/27/2021
Cristina's Curls
Thank you so much for taking the time to write such a detailed review. We truly appreciate it and thank you for supporting Cristina's Curls. God bless